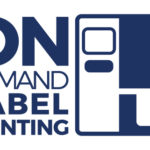 On-demand label printing saves you time and money!
Whether you need an industrial label printer, desktop label printer, portable label printer, or specialized label printer, Dasco supplies quality label printers manufacturered by Brady, Zebra, Intermec and Cab. With label printing expertise since 1954, we can help you find the best label printing system for your application.
Another "thumbs up." A satisfied Dasco customer writes, "Thank you for your help with this [printing] process; the other suppliers I was working with didn't provide the support you have provided for us."
Call Dasco toll-free at 1-877-855-2235, and we will help you find the best label printer for your application and your on-demand label printing volume. Or visit: DascoLabel.com.