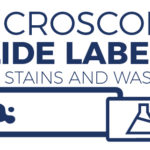 Hospital lab specimen protocol is hard on microscope slide labels. Xylene and ethanol washes can fade away impressions making legends unreadable and barcodes unscanable. Stains and washes can eat away adhesives and labels can fall off specimen slides during chain of custody transfers. Then you've got to relabel. Or worse, redraw samples and start over—that costs time and money, while anxious patients wait longer for their results.
Thermal transfer print technology is the best choice for producing long-lasting legends, but not all label stocks, adhesives, and printer ribbons are created equal. You need the right combination of materials to produce thermal transfer labels that withstand harsh chemicals, changing lab conditions, extreme temperatures, and long-term storage.
No worries! Dasco has sourced a lab-tested solution just for you! Brady StainerBondz microscope slide labels. These labels have been specially engineered for excellent solvent resistance to withstand the rigors of deparraffinization, endure extreme temperatures (-80°C to 130°C), and changing lab conditions from freezers to microwaves to pressure cookers. Now your microscope slides can have scanable, legible, long-lasting identification, and sample traceability through sectioning, chemical washes, and staining protocols without smearing or fading, and hold up through long-term storage without falling off.
Improve your specimen identification with resilient, long-lasting lab-tested Brady labels. StainerBondz labels are uniquely sized for your microscope slides and are available on easy-loading label/ribbon cartridges for your portable Brady label maker, on 1" label cores for your desktop thermal printer and 3" label cores for your high-volume industrial printer.
Call Dasco toll-free at 1-877-855-2235, and we will help you find the best label for your laboratory application and printer. Or visit www.DascoLabel.com.