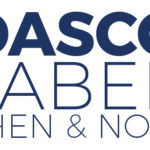 [caption id="attachment_536" align="alignleft" width="93"]
Donovan A. Schultz,
Dasco Founder[/caption]
Dasco's earliest roots began in 1954 when Donovan A. Schultz and his wife Dorothy founded D.A. Schultz Co. The business supplied GE silicones, tubing, sleeving, varnishes, resins, tape and adhesives.
Donovan, an entrepreneur, launched many local Minnesota businesses over the years including an insulation company and a printing company which later became what we know today as Dasco Label.
[caption id="attachment_537" align="alignright" width="101"]
Dasco's future CEO[/caption]
In 1987, Donovan's son Ken and his wife Holly purchased D.A. Schultz Co. and later shortened its name to Dasco. The company's direction also adapted to embrace barcode technology, labeling and identification systems to serve customers nationwide.
While technology has changed over the last 60 years, one thing has not changed: Dasco's commitment to exceptional customer service.
60 years and counting, Dasco is your expert in labeling and identification systems. Visit www.DascoLabel.com.