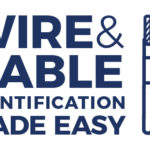 Costing too much for custom wire and cable labels? Waiting too long for custom labels or clip-on sleeves you need today? Frustrated with heat-shrink tubing jamming your printer, plus the downtime and the wasted ribbon and sleeve material? Or are you still sorting through all of the wire and cable ID options: pre-printed clip-on wire markers, custom labels, printable heat shrink sleeves and self-lams for on-demand printing?
Just where do you turn to find the best wire and cable ID solution for your application?
No worries! We've helped hundreds of people like you in the wire and cable industry. At Dasco, we enjoy sharing ways we've discovered to help you save time, money and frustration with on-demand printing of your wire and cable identification. You get personalized service by knowledgeable label experts who will help you select the best label material for your application, the right printer ribbon to work with your label material and thermal printer, and the best thermal printer for your print volume: portable, desktop or industrial.
With an on-demand printing system you'll no longer have to wait days or weeks for your pre-printed wire markers or custom labels to arrive because you'll be able to print your wire and cable ID in seconds and for a fraction of the cost.
Speaking of money-saving, Dasco supplies a private label brand of printable heat-shrink tubing and self-laminating wire labels you've got to see for yourself. Dasco sleeves and self lams offer comparable quality to name brands for a fraction of the cost! Plus, our flattened tubing won't jam your printer and perforation/cutter which means your sleeves will print with less tubing and ribbon waste. You'll save money, time and frustration! Just call Dasco toll free at 1-877-855-2235, and ask for a FREE wire and cable ID sample pack and test them out for yourself.
We love the name brands, too. Dasco is proud to be an authorized stocking distributor for Brady, Zebra, Intermec, and more. So if you're sold on the name brands like Brady sleeves and Brady self lams, you'll be glad to know that Dasco stocks thousands of name-brand self-laminating wire markers and liner-based sleeves for thermal printers and Brady label makers. Best of all: Dasco sells name-brand labels for LESS! Complete a label quote request form for a quote in as little as one business day or call us toll free at 1-877-855-2235.
Why wait? Let Dasco help you save money, save time, and reduce frustration with your wire and cable identification. Call Dasco toll free at 1-877-855-2235, or visit www.DascoLabel.com.