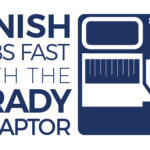 Tired of hand labeling hundreds [or thousands] of self lams to your wires and cables?
There is an easier and faster way! If you've never heard of the Brady Wraptor Wire ID Printer/Applicator, you've got to check this out! Not only is it easy to set up and print your wire ID, but it also wraps the printed self lam around your wire in seconds. This will literally save you days hand labeling a job of a thousand parts! In fact, if your wire shop is hand labeling thousands of self lams each week, the Brady Wraptor can increase productivity by up to 10 times and pay for itself in as little as 1-1/2 months!
The Wraptor is built tough for 24/7 operation. It prints and applies more than 7,000 self laminating wire or cable labels a day. Compare that to hand labeling.
How it works in four easy steps:
1) Simply load the Wraptor with ribbon and self laminating labels.
2) Initialize the Wraptor.
3) Create your label using LabelMark software (which is included with the Wraptor).
4) Print your label and insert your wire for label application. It's that fast and easy!
The Wraptor is ideal for wire harness identification, data communications labeling, panel identification, and wire and cable marking applications. It prints and applies labels with 1D and 2D barcodes as small as .25"w x .75"h to as large as 2"w x 2"h and applies them to wires and cables 1.52 mm - 15.2 mm in diameter.  Plus, the Wraptor passes 2011/65/EU for RoHS compatibility.
Watch the Brady Wraptor Wire ID Printer/Applicator in action:

https://youtu.be/onffLL148cs
For more information about the Brady Wraptor Wire ID Printer/Applicator, call Dasco toll-free at 1-877-855-2235 or visit www.DascoLabel.com.