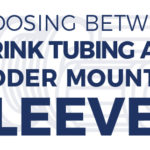 Wire marking heat shrink sleeve systems offer comparable quality with some big differences. There are two main formats: continuous heat shrink tubing and ladder-style sleeves. Both print through your thermal transfer printer and offer comparable performance (i.e., MIL Spec, UL/cUL and 2:1 and 3:1 shrink ratio) for permanent wire identification.
The biggest differences between continuous heat shrink tubing and ladder-style sleeves are that continuous heat shrink tubing offers more flexibility options to perf or cut your sleeves any size you need. And the best difference is that continuous shrink tubing costs pennies per sleeve compared with up to fifty cents for each ladder-style sleeve!
Continuous heat shrink tubing is available in open or flattened formats. Open tubing frequently jams when printed and passed through a cutter while flattened tubing prints and passes through a cutter without jamming. For this reason Dasco supplies no-hassle flattened continuous heat shrink tubing which is available in MIL Spec, UL/cUL, and 2:1 or 3:1 shrink ratios.
Video: Continuous Heat Shrink Sleeves vs. Ladder Style Markers
[youtube https://www.youtube.com/watch?v=Kb_u6UUzKMw?rel=0]
Visit www.DascoLabel.com or call Dasco toll-free at 1-800-927-7701 and ask for your free heat shrink tubing samples.