The Anser U2 printer puts the power of high-quality direct marking in your hands. With a minimum print height of 0.1", this printer is ideal for primary package marking. In addition to alphanumeric characters, the Anser U2 can print several barcode types, including Code 39, Code 128 and EAN 128. It also prints 2D barcodes, such as QR Code and Datamatrix. The 400dpi printhead is ideal for small character encoding that is both human and machine-readable.
The Anser U2 printer has an ergonomic, straightforward design. The 3.5" LED screen and intuitive interface allow you to select settings and messages with ease. At only 4.7" wide and 1.2 pounds, the Anser U2 is compact and portable for maximum versatility.
The Anser U2 printer covers all your direct marking needs, both in-line and handheld. The in-line model can be easily integrated into any production line. The handheld model can be used to print directly on crates, boxes, and more - eschewing the need for imperfect marking tools like stencils, spray paint, and markers.
Want more options? Check out our full selection of handheld portable inkjet printers.
01.Anser X1 is the Newest Addition to the Inkjet Printer Line
The Anser X1 is designed with quality in mind, to provide business owners a true reliable and maintenance free coding solution. Yet equipped with best-in-class performances and features, to meet the most demanding production line integration requirement. Featuring ANSER NEXGen technology, X1 is capable of driving different TIJ printhead technologies with easy switching capability, which provides end user a great variety of ink portfolio to meet their substrate requirement. Simple, yet powerful. X1, a high resolution inkjet printer with unmatched flexibility and best-in-class performances.
There are three options avaliable to suit your needs:
X1 Single Printhead - Includes the X1 controller and one high resolution 2" maximum height printhead.
X1 Joined Dual Printheads - Includes the X1 controller an dual printheads joined in one applicator to create high quality marks up to 4" high.
X1 Separate Dual Printheads - Includes the X1 controller and two separate high-resolution printheads for use on two different lines at once.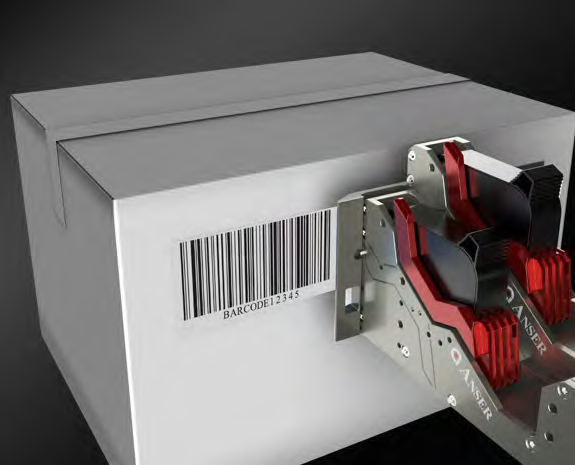 02.Inline Direct Marking
On a production line, direct marking is often a necessity. The Anser U2 prints lot codes, expiration dates or batch numbers directly on the product package. Anser printers use an external printhead to release ink onto a substrate. Inks are specialized to dry instantaneously on both porous and non-porous surfaces. Once dry, the ink provides a high-quality, long-lasting mark.
Many direct coders must make direct contact with a substrate in order to mark it. This can present problems for in-line labeling, especially when labelling products that are irregularly shaped or fragile. Thankfully, Anser printers are unique in their ability to "throw ink" to a surface up to 0.25" away from the printhead with no loss in quality. A photocell attachment signals the machine to release ink when an object passes on a conveyer. Because there is no contact between the package and the printer, setting up an inkjet coder in-line is simple, even for fragile or irregularly shaped products.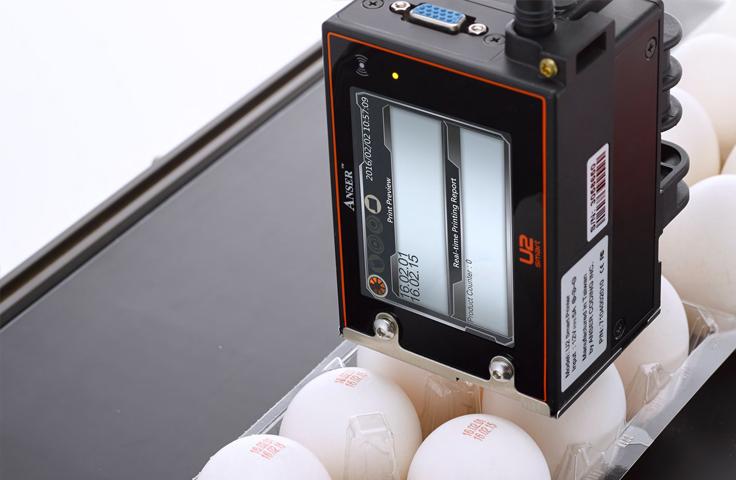 03.Anser Printers & Ink
The Anser U2 line encompasses three printers: U2 Smart 0.5", U2 Smart 1" and U2 Pro-S. The biggest difference between these printers is ink availability.
The U2 Smart printers mostly use water-based inks, which work best on porous surfaces like paper and cardboard. There are several colors of water-based inks available, including black, blue and red. U2 Smart printers have only one solvent-based ink option: SP-L black, which has a longer drying time than the solvent inks available for the U2 Pro-S.
The U2 Pro-S model uses mostly solvent-based inks, which dry quickly on non-porous surfaces like metal and plastic. Aside from a durable MEK-based black ink, the Pro-S works with a wide selection of colored solvent inks. Dye-based NP3 Red and NP3 Blue work best on light-colored surfaces. Pigment-based S1 Yellow and S1 White show up clearly on dark-colored surfaces.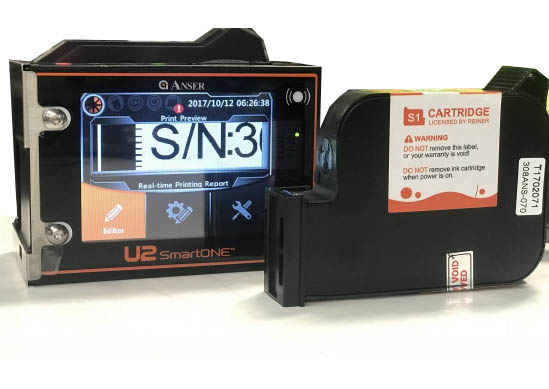 04.Cleaning & Maintenance
The printhead on inkjet printers usually requires frequent cleaning and maintenance to prevent dried ink from clogging the nozzles and causing voids or streaks. However, the Anser U2's printhead is attached to the ink cartridge, which means that it is replaced each time the ink is replaced. Generally, you will not need to manually clean the printhead.
If you see voids, try wiping a cloth over the nozzles on the printhead. In most cases, this will help clear any dried ink. For more stubborn clogs, use a syringe kit to flush the nozzle with cleaning fluid.
Pigment based inks like the S1 Yellow and S1 White are much more prone to clogging than other ink types. If you are using these inks, we recommend wiping the nozzles with a cloth a few times a day. You may also shake the cartridge to evenly distribute pigmentation particles.