Cab printing systems are known throughout the industry as some of the most versatile and long-lasting systems available. Designed with flexibility in mind, Cab printers offer numerous modular attachments to provide low-cost solutions for your label and identification applications. A truly open-source design with no limitations on material, programming, or peripherals, Cab printers can be easily integrated into your existing systems. Take a look below at some of the various Cab solutions Dasco offers our customers.
01.
Cab produces printers for just about any price point and application. From lower cost, smaller footprint desktop models, to larger double-sided and two-color systems, Cab has multiple models for your application.
Desktop Models
Cab desktop models offer great performance at a budget-friendly price. Two different lines (MACH and EOS) and 5 different base models ensure that users can find a solution for the application in these budget conscious lines.
Industrial Tabletop Models
Cab's Squix line of printers is one of the most popular line of label printers in use today. Offered in 2in, 4in, and 6in widths, the Squix line offers users many options to conform to your specific labels. Fitting a wide range of applications, offering highly modular designs and accessories, and constructed with highly durable materials, these printers are designed to last in high performance, industrial settings. Accessories for the Squix line include applicators, cutters, barcode verifiers, and many other unique attachments.
If 6in still isn't wide enough, the Cab A8+ is designed for users looking for pallet and barrel applications with the ability to print up to 8in wide.
Industrial 2-Sided and 2-Color Printing
For unique applications with dual performance, the Cab XD4T (two-sided) and Cab XC Series (two-color) offer premium industrial grade printers to fit into your workflow. These printers have all the great performance and durability of Cab industrial-grade printers, with unique capabilities to fit different needs.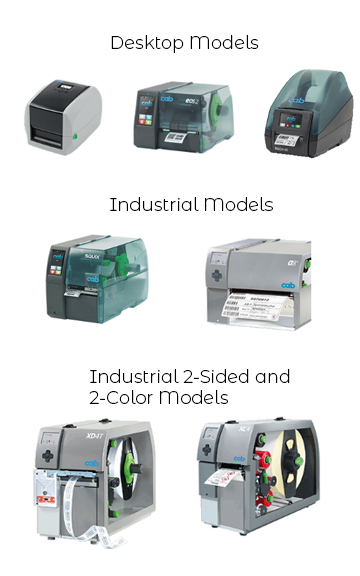 02.Cab Applicators
The modular design of Cab printers allows you to customize your solution with a number of different applicator technologies for a fraction of the cost of other solutions. Whether you're looking for stand-alone performance, or in-line integration, Cab print and apply systems can be worked into just about any solution. See below for just a few of the applicator options available for Cab systems:
Axon 2 Tube Labeling: Automatic print and apply to tube diameters of 10mm to 17mm. Ideal for lab applications.

S1000 Stroke Applicator: A tamp applicator utilizing compressed air apply labels down with a stroke cylinder.

S3200 Rotary Applicator: A short-stroke applicator utilizing compressed air to apply labels horizontally from anywhere in a 45 to 95-degree angle.

S5104 Tamp Applicator: A tamp applicator that utilizes a passive pressure roller to apply labels to moving items. Designed specifically for integration with conveyer belt systems.
03.Cab Dispensers
In addition to printing systems, Cab also produces high quality dispensing systems for your label applications. Cab dispensers are available with multiple widths (8mm-65mm, 20mm-120mm, and 80mm-180mm) and dispensing directions (horizontal or vertical). See the full lineup here.
In addition to these variations, Cab dispensers are also available with an optional operation panel providing a large array of additional features including:
Label dispensing speed control (slow/fast)
Label dispense counter
Option for push-button or automatic feed after removal
External signal triggering the feed of label
The last feature (external signal) is unique to Cab dispensers and is ideal for anyone looking to have an integrated dispensing system in their greater application.