Auto Dealer Stickers
Correctly marking your auto inventory is essential. The FTC Used Car Rule states that auto dealers must display a buyer's guide on used vehicles for sale on their lot. Many dealers also choose to post information about their warranty or other special features. With a wide variety of labels to help identify your automotive inventory, you'll find the ideal solutions to fit your needs. We offer both stock and custom window sticker solutions for interior and exterior applications.
Our window stickers work with most laser printers so you can easily print vehicle information from your inventory management software. When applied, our labels will not curl up or fall off, ensuring you stay compliant and on-brand. Removing a label is easy and convenient. With no tearing or residue left behind, our window labels are a hassle-free solution for any busy lot manager.
01.Custom Window Stickers
Custom branded Monroney stickers for your dealership are a professional way to highlight the features, benefits, and quality of your automotive inventory.  Our in house graphics team will work with you to develop custom Monroney templates that you can then print variable auto information on at will.  Once your artwork is developed, we will keep it on file for future orders, and print your Monroney stickers on demand with extremely fast turnaround times.  If you're dealing in higher volumes, Dasco also offers volume discounts for your custom stickers starting at just two packs.  If you're interested in learning more about our custom solutions, fill out a Contact Us form, call, or click our Live Chat right now to talk with a respresentative.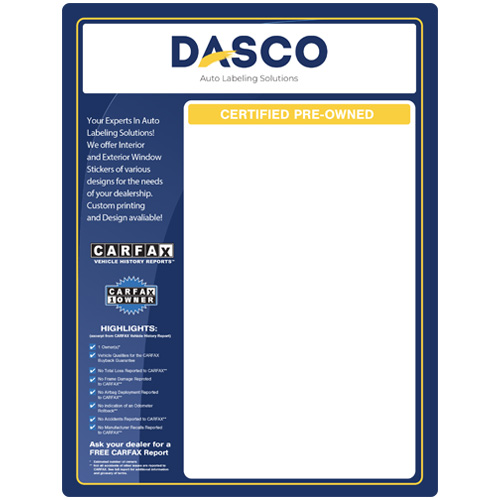 02.Interior Window Stickers
Interior window stickers are our most popular solution. The unique die-cut allows them to be mounted on the inside of car windows while still displaying information outside. This way, labels are protected from the elements and won't fall off due to weathering.  Dasco has multiple stock options available for interior mount stickers including addendums, stickers with Caution disclaimers, and Buyer's Guides.  All of our interior stock options can be used for custom stickers as well.
03.Exterior Window Stickers
Exterior window stickers are extremely durable and easy to use. These labels are designed to keep their adhesion and color through high exposure to the elements whether it be rain, shine, or snow.  The interior die-cut also allows for information or disclaimers to be displayed on the inside of the car window as well as outside. The labels are made of weatherproof and tear-resistant vinyl label stock. They are a reliable solution for any dealership looking to clearly mount their vehicle information on the exterior of their vehicles.  Any exterior sticker stock is also available for custom printing.