Compact, versatile large character handheld inkjet printers
The EBS line of handheld direct marking printers use pressurized ink to mark virtually any surface, including cardboard, wood, plastic, metal, glass, shrinkwrap, and much more. The EBS line of hand jet printers are designed to replace outdated marking tools such as stencils, oil boards, spray paint, stamps, ink rollers, and markers. The EBS hand jets are completely ergonomic and can print letters, numbers, barcodes, logos, counters, connect to a database, and more at a maximum print height of 2.2 inches and a minimum print height of 0.39 inches. Learn the difference between the EBS-250 and the EBS-260 to select the proper printer for your application needs. Implementation of an EBS hand jet will increase efficiency, improve accuracy, and automate your labeling process. Still not convinced? See the EBS-260 in action.
See more of our handheld portable inkjet printing solutions.
01.Print on ANY Surface
The EBS hand jets are the perfect fit in numerous industries because they can print on almost any surface. We have implemented hand jets in industries including marketing promotions, apparel, manufacturing, production, oil and gas, logging, healthcare, safety, defense, construction, and many more. Watch our customer Monkey Wrench use the EBS-260 to label production cases.
The EBS hand jets allow you to adjust the amount of ink that is ejected from the printhead to perfect the look of the print on each application surface. Porous surfaces such as a T-shirt may call for more ink ejected from the printhead, where smooth surfaces such as glass may call for less ink. This feature is essential when programming scannable barcodes.
Want even more options? Check out our full selection of handheld portable inkjet printers.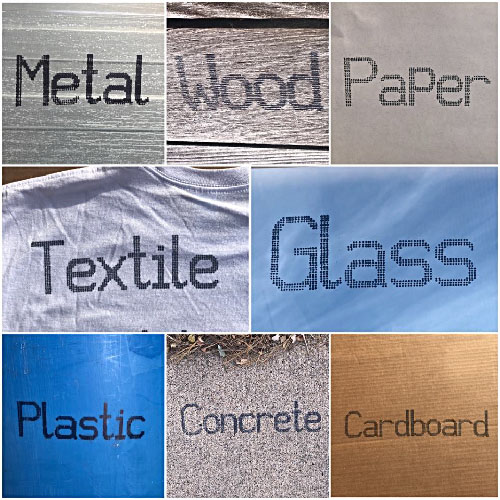 02.Using and Maintaining EBS Hand Jets
Purging the printers with a cleaning cartridge: EBS-250 Cleaning Cartridges and EBS-260 Cleaning Cartridges are used to purge the printers. Printers configured for MEK-based ink are purged at least twice weekly, printers configured for acetone-based ink are purged at least once weekly. Purging the printers with a cleaning cartridge prevents ink from drying inside of the tubes that lead up to the printhead, which can cause clogging inside the printers.
Cleaning the printhead: The printheads on the EBS-250 and EBS-260 are cleaned with the External Cleaning Solution after each use.
Spraying the printhead with the external cleaning solution and wiping down the printhead with a microfiber cloth will prevent any clogs on the face of the printhead.
Watch our tutorial on How-To Purge the EBS-260.
03.Training and Support
The experts at Dasco are available to assist you with training and technical support for your EBS hand jet. Dasco customers are assigned an account manager who is available by email or phone to help you with any support you may need with your hand jet. Dasco representatives are also available on our online chat service. Ready to purchase an EBS hand jet? Ask us about our Online Hand Jet Introduction Training with one of our product experts available with the purchase of any hand jet.
Comments from some of our happy customers:
"Amazing customer service from this team!
Katie Banken has helped me every step of the way with quick responses to my email questions, great info and advice. I'd recommend purchasing from this company in particular so you can make sure you have the kind of support they offer their customers."
"Great company to work with! Everyone is super friendly!"
"We recently bought a EBS-260 Printer with Dasco and they were extremely helpful showing us the ropes of the printer and making sure we use it to its full potential. They have been there every step of the way as we figure out how it helps our business. Katie has been very helpful and is extremely knowledgeable about the products. I definitely would recommend Dasco for your labeling needs."
Contact Us today! We look forward to learning more about your application.