TAKE CONTROL OF PRODUCT LABELING
QuickLabel printers are the ideal fit for businesses across a variety of industries with labeling needs from identifying to tracking and marketing products. Implementing a full-color printer in-house will bring your brand to the next level. Bringing label printing into your facility adds flexibility, improves efficiency, and allows you to produce unique labels that will enable your product to stand out. QuickLabel printers have a variety of selections of print widths, durability, print resolution, and more to best fit the needs of your unique application. As you explore QuickLabel's array of printing solutions, you'll quickly learn there isn't a wrong choice in the QuickLabel lineup. Begin by comparing the powerhouse T2-C to the swift QL-120.
As you consider the full-color printing options that are available, our team is your #1 resource for finding the printing solution that best fits your needs. The Experts at Dasco have mastered the world of full-color label printing. Our team will work with you the understand every aspect of your application to ensure that we select a printer that is the perfect fit.
01.Why Print Labels on Demand?
Produce high-quality product labels, eliminate inefficiencies, and increase flexibility in your current labeling process by integrating a QuickLabel printer onsite in your facility.
Eliminate label waste and setup fees: With no order minimums and the ability to print multiple SKUs, print as little as one or as many as tens of thousands of labels from the small footprint of a QuickLabel printer. Eliminate the need to order more labels than needed to meet high order minimums to decrease your price per label.

Update variable information: QuickLabel printers allow you to print variable data on the fly. Format your labels to print incremental or unique variable information such as lot numbers, barcodes, serialized information, and more.

Creative freedom: The possibilities are limitless. Attract new customers and retain current customers by branding your products in limited edition or seasonal run quantities. Change your label design with little notice to make sure your products stand out. Take a look at how these companies utilized partnerships and label design to make their brands stand out.
No lead time: Enjoy fast turnaround times with onsite production, print on demand in-house to get your labels exactly when you need them.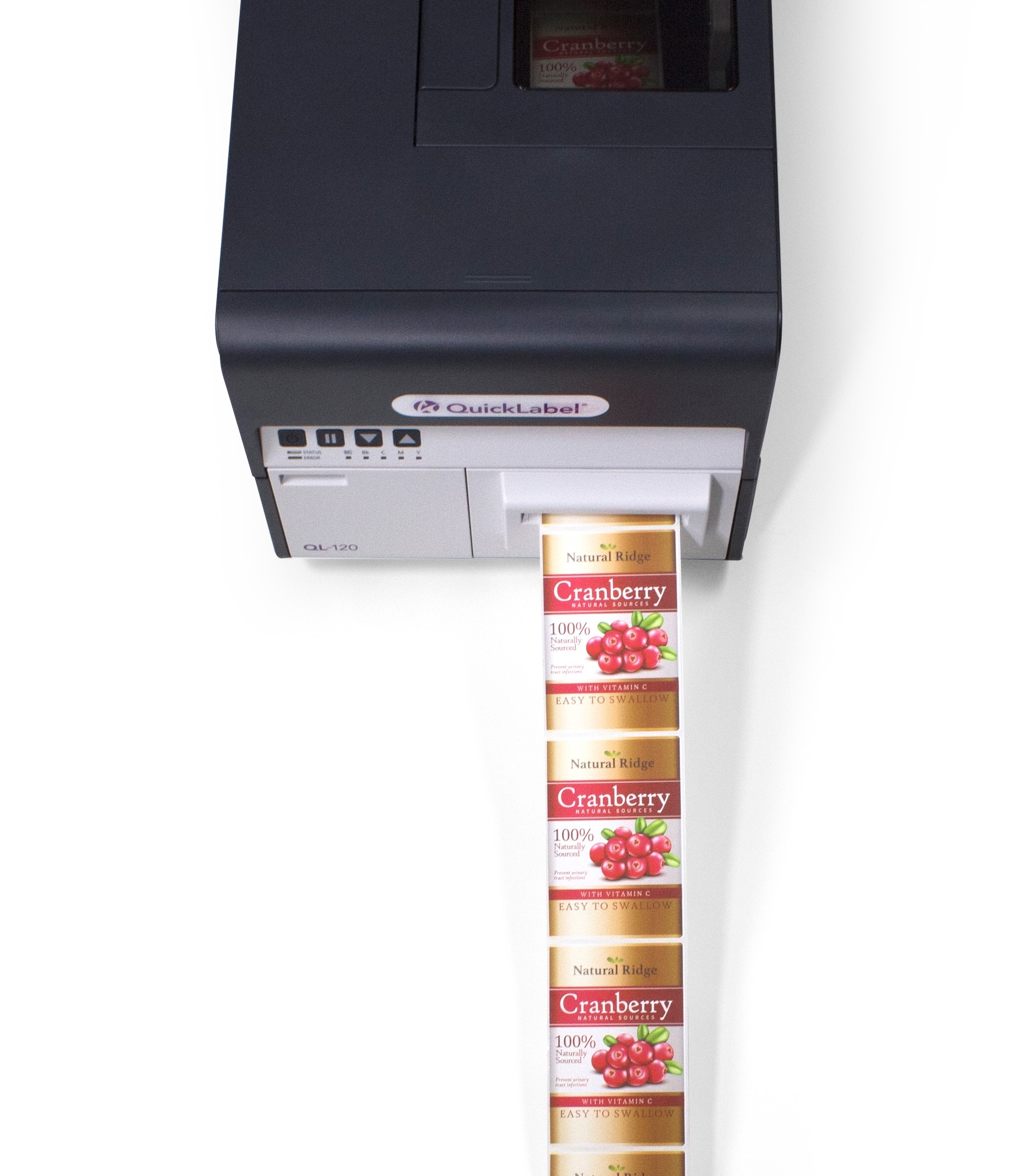 02.Label Materials
Establishing the proper label material for your application will guarantee that your labels will stand up to the environment they must endure. We offer various types of label materials and adhesives that can withstand the unique climate of your application. If your application calls for it, we have label materials that resist harsh chemicals, abrasion, water submission, and oil. We have seen it all and will find the perfect label material for your products.
Contact the experts at Dasco and provide answers to the following questions. With this information, our team will find the perfect label material for your application.
What are your label dimensions? (LxW)

Do you know what label material they are currently using?

What is your Label volume?

What environment must your labels withstand?
03.Total Cost of Ownership
Our team will work with you from start to finish to ensure that we find the perfect solution for your application. We have perfected the process to ensure there will are no unanswered questions and that you have confidence in the solution before proceeding with implementation. You can expect the following from our team.
We will gather a thorough understanding of your goals and objectives in your labeling process, to provide the best possible solutions for your unique application.

Our team will create samples of your artwork on the printer that is the best fit for your application. We will use the perfect label material for your application so you can test the actual quality and durability of the label.

You can expect an explanation of pricing on hardware, label material, and ink consumption costs. The detailed pricing we provide will give you a clear understanding of what it costs to maintain the printer and the exact per label price with your artwork.

A hardware demonstration either conducted online or in person.

If you are looking for a full-solution or interested in additional support, we will provide you with an outline of available accessories, training and extended warranty options that are available