Increase Efficiency &
Decrease Errors

in your Lab

Labels are widely used in laboratories across the world to identify patients, tests, papers and specimens for the purposes of reducing error and increasing efficiency. It is critical to choose a label that can withstand the conditions, chemicals and tests in your laboratory while remaining legible. Some applications in the lab include labeling bottles, flasks, dishes, vials, tubes, bags, collection cups, slides and more. Here are some things to consider when selecting labels to use in your lab.
01. What Label Material Should I Choose?
The material you select is the single most important factor you need to consider when choosing a label for your laboratory application. It is critical to choose the right label and ribbon combination dependent on the environment and chemical exposure occurring in your application. The right material and adhesive will ensure the printing remains clear and legible and that the label stays where you need it to. The most common label materials we recommend using in the laboratory are polyester labels for harsher conditions or when your label needs to withstand extreme temperatures/exposure to chemicals. For simpler applications without exposure to water/harsh conditions, paper is always an affordable option that gets the job done. When selecting a label material, work with your Label Partner and be sure to give a detailed explanation about the surface and conditions your label will be exposed to on a daily basis for an accurate recommendation of what the best product for your application will be.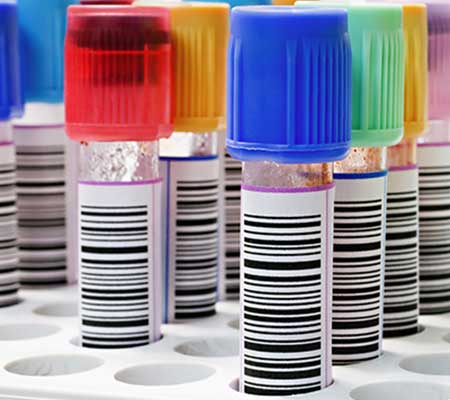 02. What is the Proper Label Size for my Application?
Dasco carries many different stock label sizes to choose from as well as the option to have a custom size label produced. The label size you will need for your application is affected by how much room you have to place the label, how much data you want included on your label, what type of printer you are using and can be dependent on your Lab Information Management (LIM) system if your laboratory uses one. Select a label size that allows easy placement of the label by your lab personnel and allows your text to be large enough to make your label human readable.
03. Should I use Barcodes on my Label?
Barcoding in labs has become common place to help track specimens and ensure data integrity throughout the testing process. The most common barcode now used in labs is the 2D Datamatrix code which allows you to put a lot of information in a small space and is readable using a barcode scanner. Work closely with your Label Partner on your barcode selection to make sure you have the proper equipment and systems in place and you encode your barcode in the proper manner for use with your systems.
04. Do I Need Software for my Solution? If so, what is the best option?
Will you be printing your label directly from your Label Information Management (LIM) system or will you need label design software? Many users do not put enough emphasis on the importance of good label software which ends up causing re-work in the new label implementation process. If you need label design software be sure your Label Partner has experience with implementing and training on label software and will offer assistance and education to help you in the design and layout of your labels as well as system management. Your software solution can be as intricate or simple as you need and Dasco often helps develop basic programs for our Laboratory customers that allow lab technicians to follow a simple step by step process to make/print labels and ensure data integrity with very little software training. With systems that allow you to do everything from simply printing a label to complete systems that tracking and complete reporting features, your software should be the backbone of your labeling process. If you are not sure what software works best with your application, speak to your Label Partner to explain what your goals are and ask what they have done for other customers with similar applications. Make sure you do your research, or work with a partner that has, to install the right software solution to meet your long terms needs.
05. What Type of Printer Should I Use in my Laboratory?
The most popular label printing systems on the market are thermal transfer printers. Thermal transfer printers allow you to print as few as one label up to thousands of labels a day with a just a few clicks of your mouse. They also utilize a ribbon/label combination for increased label life and durability over direct thermal printing. A variety of thermal transfer printing options including portable label printing systems for ease of transporting your printing solution around the lab, small desktop solutions and industrial high volume systems. Dasco even stocks "print and apply" systems that allow you to print your label and dispense it for your immediate use!
It is important to keep in mind that while portable printers are often less expensive up front, the labels used for portable printers are cartridges branded for that specific printer which are often 2-5 times more expensive than the same label material on a standard roll. If portability is your top concern, portable printers are still a great option. But for the cost conscious, it is more cost effective to buy a Desktop or Industrial printer and have the option to save money on your recurring cost of labels and ribbon. Some of the more popular printer brands on the market are cab, Zebra, TSC, Honeywell, and Brady. While most of the systems are similar and they all work great, there is always a best fit for your application, environment, space and weekly label quantity. It is important to invest in a printer that will integrate into your current systems and to work with a knowledgeable Label Partner that can help get your printer(s) installed and set up for use. See below for our top three most popular label printers for in the Laboratory.
Portable Label Printer- Brady BMP51 Lab
Desktop Label Printer-
Industrial Label Printer- cab MACH4
06. What type of Barcode Scanner Should I Use in my Laboratory?
There are a wide variety of scanners on the market and making sure you invest in the right one can be a challenge. Some things to consider in selecting a barcode scanner include:
What information are you collecting and what do you want done with the information?
Are you simply going to be scanning a barcode and sending the data to your PC or do you need to do more with the information before it is sent? Today's barcode scanners are extremely smart and have the capability to parse out data, insert characters and/or send data in a variety of formats to match your system's requirements. Additionally, barcode scanners can read the code, perform a routine (based on what you or your Label Partner have designed) and then process the data for you. No longer do you need your LIM system to do all the work as your barcode scanner can provide the data to the system in the proper format.
What type of barcode will you be scanning?
While you have the option to use and scan a 1D or 2D barcode on your labels, most labs are moving to 2D barcodes as they allow you to store more information in a smaller space. However, these require imagers that will take a picture of the code and then decode the information and send it on. Imagers will read both 1D and 2D barcodes on flat and curved surfaces.
Do you need your scanner to be wireless?
Can you be tethered to a computer or do you need the flexibility of a wireless scanner to give you the freedom to move around? Wired units will connect to your computer via RS232, keyboard or USB connection and you will typically have a 6 foot range, although you will be limited by where the cable can go. Wireless units have a base station that connects to your computer or directly to a USB device allowing you about a 30 foot range. The best method for you will typically be determined by your environment and processes. If possible, test the different scanners to see which ones meet your needs the best or use your Label Partner to help you make the best choice possible.
Do you have a cleaning protocol?
Barcode equipment is expensive and it must stay clean. If your scanners cannot withstand the variety of harsh chemical cleaners used in lab settings, it quickly goes from an investment to an expensive mistake. If you have a cleaning protocol be sure to take this into consideration when evaluating scanners.
07.
Be sure to test your barcode scanner both within the parameters of your application and on the code you will be reading. Ask yourself questions like: How long is the scan time? Is the timing satisfactory or does it take too long to read the code? Does it move with the operator easily or do you need a farther range? It is important to choose a barcode reader that reads code easily, quickly and works well within the current environment and processes of your facility.
There are a lot of variables to consider when selecting the proper labels and equipment to use in your healthcare laboratory. It is crucial to work with a Label Partner who has worked with Laboratory applications in the past and understands the label materials, adhesives and processes that are used in the Lab.