Not only do you need to ensure you select labels that stay put and withstand a harsh environment, but that you do so without exceeding your budget. Many circuit board labels are exposed to temperatures that can rise up to 550°F as well as harsh chemicals. This makes it critical to select the proper label/ribbon combination to ensure legible labels that do not fall off or peel up doing your process.
See below for important questions to ask when you are looking to select a label for your printed circuit board:
01. When and where will you be labeling your Printed Circuit Boards?
Are you labeling your printed circuit boards on the top side or bottom side? Before processing or after processing? Will they be exposed to static, extreme temperatures or chemicals? These factors play a critical role in selecting the proper material for your PCB.
If you are labeling after your board has been processed or if your labels will not be exposed to high temperatures or chemicals a polyester label will be your best choice, this will give you durable identification without the expense of a polyimide label. If your labels will be processed on the top or bottom side of the board and exposed to the harsh conditions, wave solder, fluxes or chemicals you will need a more durable polyimide label.
No matter which type of label you end up going with, you will need be verify that your thermal transfer ribbon works with that type of label to provide a durable bond to your labeling material and to ensure the printing does not smudge, smear or fall off during processing. In this case, high quality resin ribbon should be your choice and should work with your label.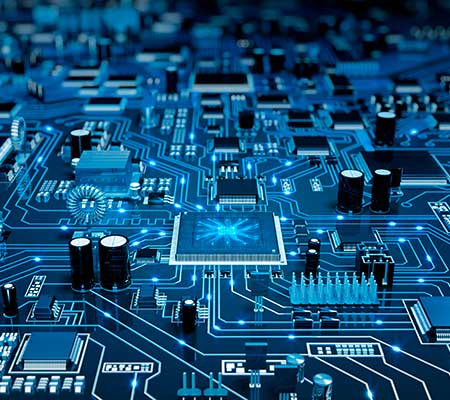 02. What will I put on my label?
Identifying circuit board labels is getting more difficult. As PCB's become more populated there is less room to place a label on the circuit board. Your label size will be determined by two factors- the amount of room you have to place the label on the PCB and how much information you want to contain on your label. With the emergence of the 2D barcode you are able to place more data in a smaller space to track critical information, provide warranty repair and reduce counterfeiting.
03. How do I select the proper thermal transfer printer for my circuit board labels?
Printed circuit board labels are what we call "tiny labels" because there is often a different set of expectations that come along with such small labels. One of these exceptions is when you are trying to choose a thermal transfer printer as not every thermal transfer printer can print on the small sizes of your circuit board labels. Typically a circuit board label is 0.25" (6.35mm) tall or smaller and it is important to make sure your printer can register these labels AND print on them in the same location consistently. As you look at potential printers, be sure to look at the minimum label height that the printer can process. Some printers we recommend you consider for your PCB applications are below. We also recommend choosing a 300 or 600 dpi printer to make sure all of your data is clearly printed on your labels.
View Squix Details
View Zebra 110 Details
View Zebra xi Details
04. What other things do I need to think about when labeling my printed circuit board?
Will I be labeling by hand, do I need a label dispenser or should I automate the process?
If I barcode my boards what type of barcode should I select?
Do I have the proper barcode scanners to read my printed circuit boards?
Will I print directly from my ERP system or do I need a label design software package?
There is a lot to consider when selecting the proper system for labeling your printed circuit boards and you should select a knowledgeable trusted source to assist you with your process. Do not take chances with your labeling as this is the license plate of your product. Make sure that you get the right material, size, adhesive and printing system for your application.