UL/CSA Label
Solutions
Underwriters Laboratories has a standard for Marking and Labeling Systems, UL 969. This standard allows companies that need UL approved labels to print their own labels in house using a thermal transfer printer and a UL approved label and ribbon combination. The requirements apply to marking and labeling systems used on complete devices, appliances or equipment. The labeling systems are evaluated for specific uses and for application to specific surface materials that are essentially smooth, flat, and rigid. UL now also has a c/UL standard where they are approving labels to the Canadian Standards, find out more on the c/UL standard here.
01. What are the benefits of printing my own UL labels?
Print-on-demand/Eliminate Obsolescence: Whether you need one label or thousands of labels an on-demand printing system allows you to create and print the labels you need when you need them. Additionally, if you have a change in your labels, owning a system allows you to make the change and print the new labels without costly dies .
Reduce Lead Times: You no longer have to order pre- printed labels from your label printer, wait 2 weeks for them to be created and pay plate charges or order high quantities to get price breaks. With an on-demand system you order blank labels (many of them available off the shelf), design and print them in your facility.
Reduce Costs: By standardizing different designs on one or two blank label sizes you can combine hundreds of different designs into these sizes. This allows you to purchase more and take advantage of price breaks. By printing on-demand you also eliminate the need to throw labels away because they are obsolete, a static field changed or because they have expired.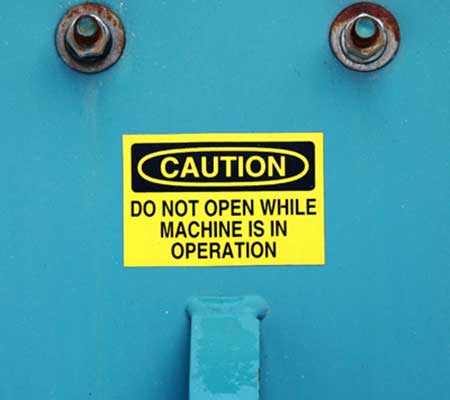 02. How do I select the proper UL approved label?
Labels are critical components to identifying your equipment to meet UL specifications. Your label system includes both the label and printing ribbon as a matched set. Things to consider when selecting the proper label combination to meet your UL requirement
What is the label application surface and intended exposure environment of the end-product?
Is this an indoor or outdoor application.
Do you need information pre-printed on the label or will you be printing the entire label in your facility?
Do you understand UL's procedures in regards to designing and printing your labels?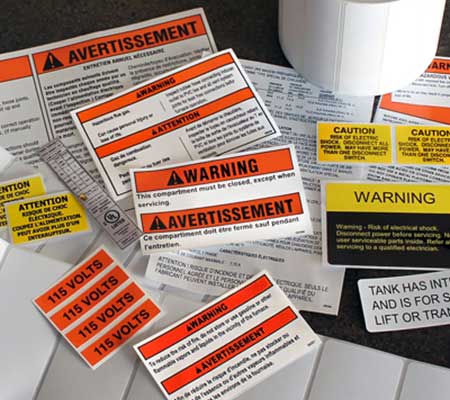 03. What is the best printer for my UL labels?
In the past, UL used to require you to use a specific printer when printing a label combination. However, with the acceptance and consistency of thermal transfer printing you are no longer required to use a specific printer. To print UL approved labels you can use any thermal transfer printer, but it must be thermal transfer using an ink ribbon. There are no direct thermal stocks that are UL approved. When selecting a printer be sure to consider your label size and quantity of labels that you need to print. If you have a larger volume of labels you will need a durable label printing system. If you are printing small amounts of labels (less than 100/week) there is no reason to invest in a larger system.
04. How do I design and print my UL approved labels?
There are many different label design software packages that allow you to design and print your labels. Before you select a software package, be sure to think through your process and how you are going to manage your label inventory and designs for the long haul. Work with your software partner to discuss your label usage and needs to develop a system that will make it easy for future operators to learn and use. Check out this link for things to consider when developing a labeling process in your operation (Insert link here when done)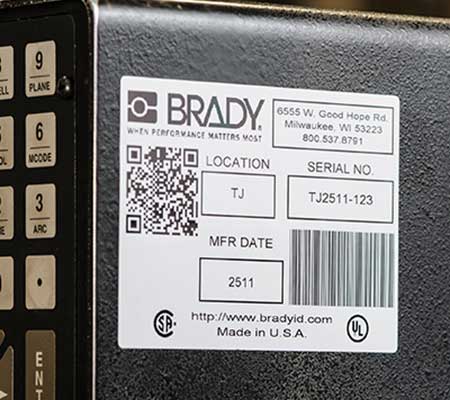 05.
Work with your label supplier to determine the requirements of the end-use application and select the proper UL certified label material/ribbon combination. Rely on your partner to do this as they have the experience to assist you. If you have additional uL specific questions, we recommend contacting your UL labeling representative for additional information and assistance.
Labels are critical components that provide users with safety-related information on a wide variety of products. UL 969 is a globally recognized label performance standard. If you need to meet other standards in addition to UL like CSA, IEC or a MIL standard be sure to include all of these standards in your label selection process. When selecting a label supplier to work with be sure they know the standards to provide you with a complete system. It is easier to work with a supplier that knows the labels, ribbons, printers and software that make up your complete system rather than separating this out to different suppliers. Rely on your partner to help you through the process.
Helpful Links (open in new tab)

Guide for printing UL Certification Marks
Compliance and Guidelines for Marking and Labeling Systems